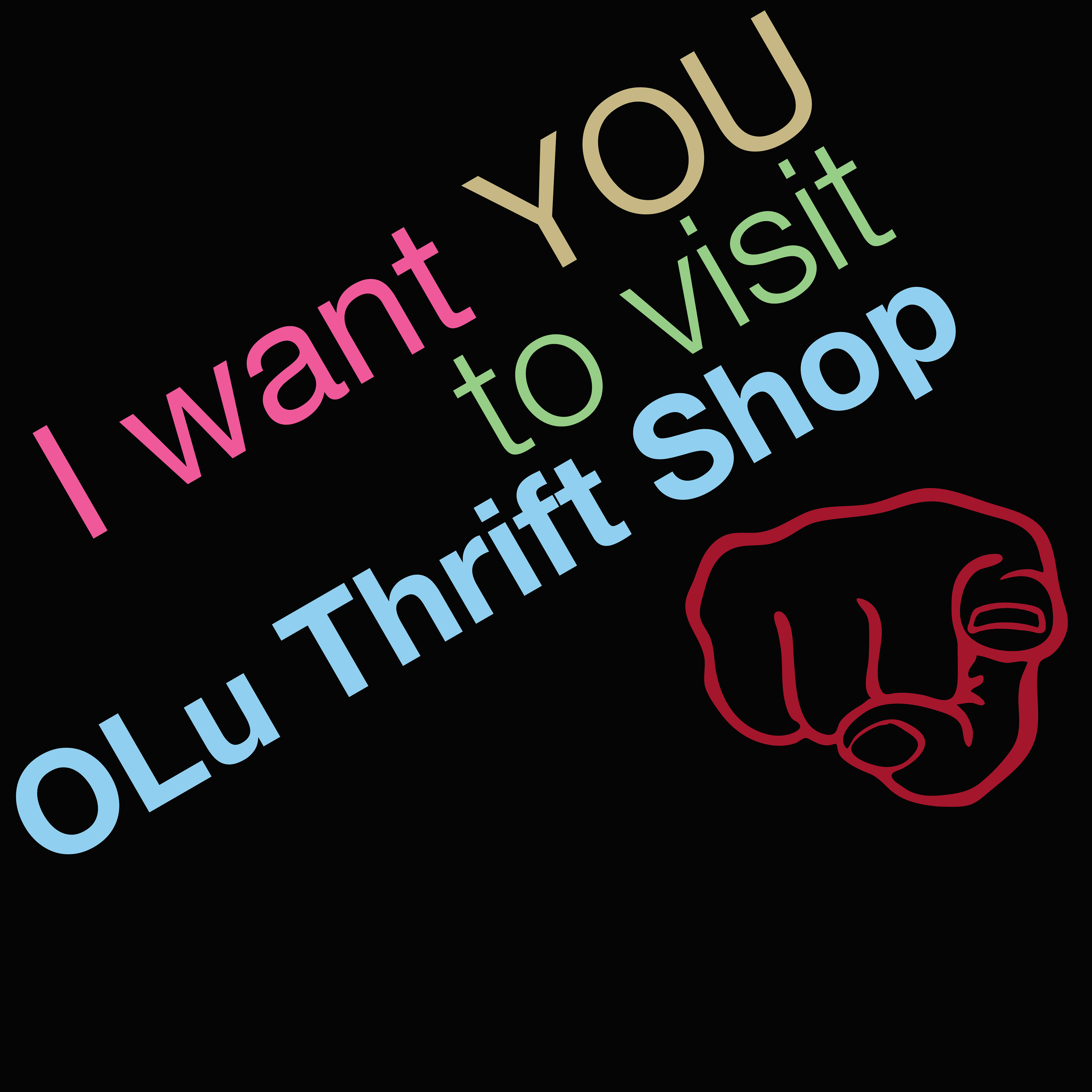 The story behind this T-Shirt design:
During the Christmas break of 10th grade in Orange Lutheran High School, I volunteered at Orange Lutheran Thrift Shop. During my volunteer work, I noticed that this Thrift Shop was superior, such as items in the store (inexpensive but they are very good-conditioned). There were employees walking around inside the store always, but there was no uniform for them, like staffs at Apple Store. Hence, even though employees in this thrift shop are ready to offer helps, customers wouldn't even know who should ask for while shopping.
Orange Lutheran Thrift Shop is a crucial part for Orange Lutheran High School, because tuition fee from all students is not enough to run this high school. Hence, the school is funded from its Thrift Shop (especially for students who applied for financial aid) and other donations, as I concluded by listening to stories from Thrift Shop officers. In conclusion, Orange Lutheran Thrift Shop needs more customers.
During the second semester of 10th grade, there was an assignment of designing T-Shirt Design for a non-profit organization in my Graphic Design 2 class. Some students chose to design T-Shirts for Hogar de Vida (a ministry which takes care of orphans in Costa Rica and Guatemala); some students chose to design T-Shirts for local churches (like a church in Santa Ana, CA). At the moment, I recalled the experience of my volunteer experience of OLu Thrift Shop, hence I chose to design a T-Shirt for it. 
In order to design a T-Shirt that matches the need of Orange Lutheran Thrift Shop, I interviewed the Thrift Shop's officer again. Then, I brainstormed designs which convey:
1. Thrift Shop's image
2. The message from Thrift Shop to its Customer, such as I'm here for you to get any help and Please come to Orange Lutheran Thrift Shop again.
Orange Lutheran High School should be bigger and better, with the help of a large variety of funds. I want the Orange Lutheran Thrift Shop look like an Apple Store, where customers feel good, don't want to leave; staffs and volunteers are friendly, the atmosphere is very positive. More people would volunteer and work in OLu Thrift Shop, the shop's size would grow bigger by purchasing other stores. Eventually, this is a win-win situation, and my Graphic Design 2 teacher was very appreciated with my design that beliet Orange Lutheran Thrift Shop, even Orange Lutheran High School.